Step Inside
Pull open the heavy door of this rustic red barn and enter into a world of charm, whimsy and beautiful home decor. The allure of finding something unique among the gift ware, furniture and seasonal decorations is enhanced by a scented candle burning....smiling personnel at the ready....twinkling lights. All of this in a country setting not far from the hustle and bustle of suburban St. Peters and O'Fallon, Missouri.
The little red barn at 1057 Highway 79 is on the farm that has been in the Runge family since 1897. Lisa Runge Hagemann, great-granddaughter of the original owner, transformed the barn into a seasonal home and garden decor business. Inside and out, you'll find creative displays reminiscent of ones you've seen in magazines or on decorating shows. Whether your style leans towards cottage, traditional, farmhouse or eclectic, you're sure to discover something that catches your eye in the mix of shelves, lamps, candles, pictures, throws, dishes, linens, ornaments and more.
Antiques and period furniture is a special part of what you,ll find at the barn?one-of-a-kind desks, beds, tables and chairs that have been discovered at auctions, estate sales and even garages sales. The craftsmanship of the old furniture is evident. Sometimes pieces are painted, re-invented or reupholstered; at other times they're put on the floor with all the character the years have bestowed.
Your shopping experience continues outside, too, where you'll find plants, flowers, herbs and seasonal garden decor spilling our of original containers. Depending on the season, you'll find birdhouse and garden stones... pumpkins and wreaths...Fresh-cut Christmas trees and sleds. Love of outside spaces comes naturally to Hagemann, who worked 25 years as a landscape designer. She's happy to share ideas and advice about gardening and landscaping.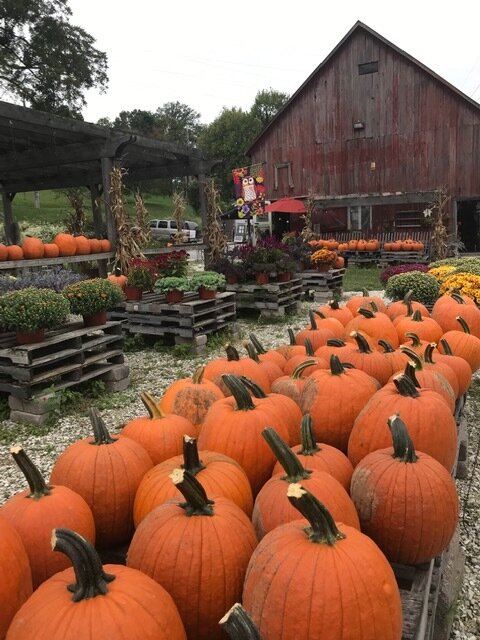 Treat yourself to a warm and inviting shopping experience. If you're able, come visit the Barn. (Oma - grandmother in German - would have welcomed you too!) Or, browse through the offerings you'll find here. Either way, we're happy to welcome you to the barn. Enjoy!